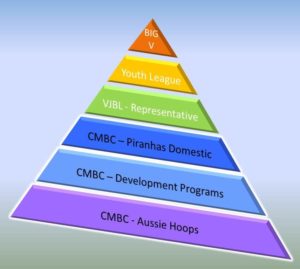 Coaching
The Club encourages parents, former members, senior players and older juniors to coach junior teams.  Coaches are encouraged to gain accreditation through Basketball Victoria and to attend coaches' clinics.  While all the Club's coaches are volunteers, in recognition of the commitment made, the Club grants one Membership for those conducting training and coaching in matches.  All coaches over 18 years are required to obtain a Working With Children Check and to satisfy Basketball Victoria's Coaches Screening requirements.
Skill Development Program
Our club is a family club and as such we strongly support sourcing our coaches from member families and we are lucky to have the backing of so many parents who are prepared to Coach.
One of our strategic imperatives is the development of coaches and this has led to the creation of a coaching sub-committee lead by our coaching advisor, Pat Doherty.
The main objective of the sub-committee is to create a skill development program to empower our players and coaches with a sound knowledge and skills in all basketball fundamentals relative to each age group.
For our beginner players and age groups, a high focus is placed on skills and correct techniques being footwork, correct shooting technique and defensive stance, with a basic understanding of man-to-man defense as a game day play.  With these fundamentals is also the natural growth of a player's confidence on and off the court.
As the player matures, the skill set is far greater where the focus shifts with the continual re-enforcement of skills and a greater focus of more structured game day plays.
This structure places importance on the quality of instruction players receive.
The purpose of a club skill development program is to:
Provide assistance to coaches at all levels
Provide a sequential learning structure for players from beginners to advanced levels
This framework then gives greater continuity and consistency within the Club, as a whole, particularly between new season team changes and team divisions.
The content of the program consists of:
A multi-level skill development program (team)
An individual player development program
A scope and sequence chart to assist in identifying skill levels
Training session planners
Resources for coaching and playing:

Coaching courses
1-on-1 coaching assistance at games and/or training sessions
Club resource library
Print
On-line material
Game day team management