NBL & Piranhas Partnership
Our Ticketek promo code to receive 10% discount tickets is: MUCX64
The NBL is back again, and the Piranhas Basketball Club and Melbourne United have joined forces to provide you with some awesome benefits just for being part of this club.
The talent pool has increased across the league with several big names returning home from Europe and the NBA and we couldn't be more excited to watch our NBL team go all the way in season 2018-19.
As part of our partnership with Melbourne United, we will have access to 10% off tickets for players, families, coaches and staff throughout the season plus loads of additional prizes for Piranhas Basketball Club if we have the most people cheering them on at their games. For group bookings please email the form on the attached Link.
Please use this promo code when you purchase tickets throughout the season to ensure all ticket numbers go to our tally! All tickets are available via ticketek.com.au.
If you would like to take a group or your team along to a game contact groups@melbourneutd.com.au and they will help you make the experience a memorable one.
We're very excited to be helping to bridge the gap between the NBL and grassroots basketball, we hope you'll get behind Melbourne United and support them all the way to a Championship this season!
*Please note that discounted tickets are available for regular season games at Hisense Arena only in silver, bronze and general admission seating
SPORTSMART Partenership
Piranhas is now signed up to Sportsmart's Club Advantage program, which offers great benefits to us and our club members.
Our Club Advantage number is 800531.
Quote this number every time you make a purchase from Sportsmart to get two benefits:
1. For you – an instant 5% discount off the normal selling price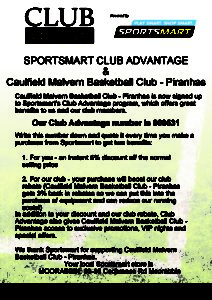 2. For our club – your purchase will boost our club rebate (Piranhas Basketb
all Club – gets 3% back in rebates so we can put this into the purchase of equipment and can reduce our running costs!)
In addition to your discount and our club rebate, Club Advantage also gives Piranhas Basketball Club access to exclusive promotions, VIP nights and special offers.
We thank Sportsmart for supporting Piranhas Basketball Club.
clubadvantage.sportsmart.com.au

The Caulfield Malvern Basketball Club is seeking interest from Club members or organisations who would be interested in sponsorship opportunities in return for publicity on our website and publications.
Please contact info@piranhas  if you would be interested in becoming a sponsor.