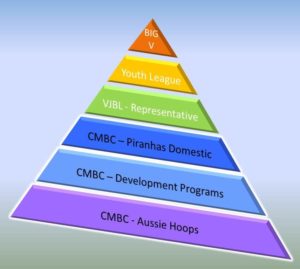 The Caulfield Malvern Basketball Club Inc. was formed in 1999 to develop basketball and to provide teams for boys and girls of all experience levels in all age groups. Whilst the club predominantly draws the majority of its membership from Caulfield, Malvern and
Glen Iris, the club pro-actively supports youths from African communities who wish to play basketball. The club has approximately 450 playing members and fields teams in the Waverley Basketball Association domestic competition and also at representative level, in the Victorian Metropolitan Junior Basketball League.
The club is administered by a management committee elected from and by adult members with voting entitlements according to the rules of the club.
Piranhas-CMBC is a non-profit organisation.
Registered under the Associations Incorporation Reform Act 2012 No A0038045W
ABN 26 161 605 655
Endorsed by the Waverley Basketball Association
Selection
Teams are selected at training.
Attendance at training
Regularly attending training and matches is a condition of membership.  The Club understands that there are religious, family, school and employment commitments that may affect attendance from time to time and expects maximum notice of unavailability to be given to the team coach.
Communication
The Club publishes a newsletter periodically and notices as necessary.  Correspondence is posted, e-mailed or distributed through team managers.  All essential notices and forms are placed on the Club's website. While the Club makes every effort to provide information, it is the responsibility of member families to ensure they are informed.
If you have any trouble within this site, please click here to search.