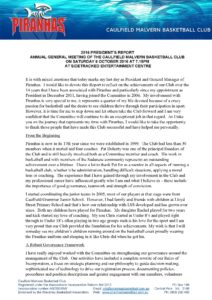 ANNUAL GENERAL MEETING OF THE CAULFIELD MALVERN BASKETBALL CLUB
ON SATURDAY 8 OCTOBER 2016 AT 7.15PM
AT SIDETRACKED ENTERTAINMENT CENTRE
It is with mixed emotions that today marks my last day as President and General Manager of Piranhas. I would like to devote this Report to reflect on the achievements of our Club over the 14 years that I have been associated with Piranhas and particularly since my appointment as President in December 2011, having joined the Committee in 2006. My involvement with Piranhas is very special to me, it represents a quarter of my life devoted because of a crazy passion for basketball and the desire to see children thrive through their participation in sport. However, it is time for me to step down and let others take the Club forward and I am very confident that the Committee will continue to do an exceptional job in that regard. As I take you on the journey that represents my time with Piranhas, I would like to take the opportunity to thank those people that have made this Club successful and have helped me personally.
From the Beginning
Piranhas is now in its 17th year since we were established in 1999. The Club had less than 30 members when it started and four coaches. Pat Doherty was one of the principal founders of the Club and is still heavily involved both as a Committee member and coach. His work in basketball and with members of the Sudanese community represents an outstanding achievement over a lifetime. I have a lot to thank Pat for as a mentor in all aspects of running a basketball club, whether it be administration, handling difficult situations, applying a moral lens or coaching. The experience that I have gained through my involvement in the Club and my professional career have influenced greatly who I am and what I believe in – these include the importance of good governance, teamwork and strength of conviction.
I started coordinating the junior teams in 2005, most of our players at that stage were from Caulfield Grammar Junior School. However, I had family and friends with children at Lloyd Street Primary School and that's how our relationship with LSS developed and has grown ever since. Both my children have played for Piranhas. My daughter Rachel played for two years and kick started my love of coaching. My son Chris started in Under 8's and played right through to Under 18's often playing in two age groups such is his love for the sport and I am very proud that our Club provided the foundation for his achievements. My wish is that I will someday see my children's children running around on the basketball court proudly wearing the Piranhas uniform and sleeping in it like Chris did when he got his.
A Robust Governance Framework
I have really enjoyed worked with the Committee on strengthening our governance around the management of the Club. Our activities have included a complete rewrite of our Rules of Incorporation, a focus on strategic planning and our philosophy to guide decision making, sophisticated use of technology to drive our registration process, documenting policies, procedures and position descriptions and greater engagement with our members, volunteers and schools. The outworkings of these improvements can be seen through some of the achievements described below.
Strong Financial Management
Our Club is financially sound and very diligent in its financial management. In 2013, Guy Russo Jnr, volunteered to help with the recovery of outstanding subscriptions from members. Back in those days, players used to be allocated to teams and then we would chase up payment which was a laborious and unreliable process. Through Guy's efforts and the steady growth in member numbers we went from $10,000 in the bank in 2010 to $50,000 in the bank in 2013 and as you can see from our financial statements, our continuing strong financial position in 2016 has allowed us to invest back into the Club.
In 2014, Georgina Walton, the architect of our fabulous website, set up the infrastructure for online payments. We were one of the first domestic clubs to introduce an online registration and uniform ordering process. Life became so much easier – the days of having to bank cheques was almost over – but we still had a lot of work to do behind the scenes to update our membership register and use the information to do our team allocations.
An ingenious solution was created in 2016, the engineer behind it is Ric Emerson, guided by Alison Emerson who understands the registration and team allocation process. We now have a fully integrated registration process which feeds directly into the membership register and the team allocation register and is fully reconcilable with the bank account and online transactions.
Furthermore, Alison Emerson, as Treasurer, has introduced a very strong and robust financial management system which allows us to easily see and project the financial health of our Club.
Uniforms and Merchandise
In 2015, our supplier of Piranhas uniforms sold to another provider and the Committee decided it would be prudent to review our uniform supplier. After some deliberation, the conclusion we reached was that we needed to find a new supplier and that it would make sense to also review the design of the uniform to make it more contemporary. This project turned out to be a massive exercise spanning 10 months of investigation, designing, planning and rollout. Alison Emerson led this project, on top of all the other duties that she has, and I'm sure you agree that the new uniforms are fantastic. Alison was greatly assisted by Nicole Woolrich with her expertise in merchandising.
The end result is a modern reversible uniform in lightweight fabric that retains our primary colours and the Piranhas name. Our logo was modernised so that it appeals to young and older members of our Club and reflects the "tribal" values of our Club, which revolve around community, inclusiveness, learning, respect and fun. The new logo also identifies us more as a basketball club with the introduction of the faded basketball.
The rollout was a great success, accompanied by new merchandise – hoodies, backpacks, polo shirts for the coaches – and who can forget the piranha tattoos and wrist bands.
The old uniforms and merchandise have been donated to the Katalyst Foundation that supports poor communities throughout Fiji. The founder is Robert Cromb, the Managing Director of Kookai, whose children played for Piranhas many years ago. You can find out more through their website www.katalystfoundation.org.
Growth of our Basketball Programs
Today, we have 516 members comprising 156 girls/20 teams and 360 boys/45 teams. It is pleasing to see our girls representing 33% of our members and also more new members coming from Murrumbeena Primary School and Xavier College this year. Also, as our Club matures, it's great to see our older juniors and former players take on coaching roles. I would like to acknowledge the contributions of Michael Walton, Jim Emerson, Patrick Kennedy, Alexander Stonier-Watson, Matthew Wegmuller, Charlie Glasser and Jordan Taylor-Wood to our coaching fraternity.
Winter Season 2016
We had 56 teams participating in the Winter Season at Waverley. 17 teams made it to the Grand Final which is an excellent result when you consider that 10 teams out of the 56 are Under 8 teams that do not play finals. Of the 17 teams, 10 teams won their Grand Final and they were:
• Under 10 Girls Section 3 Boyd Park Piranhas
• Under 12 Girls Section 2 Kooyong Park Piranhas
• Under 16 Girls Section 2 Central Park Piranhas
• Under 10 Juniors Section 4 Phoenix Park Piranhas
• Under 10 Juniors Section 7 Green Ferndale Park Piranhas
• Under 12 Juniors Section 3 Gardiners Creek Piranhas
• Under 12 Juniors Section 6 Green Tooronga Park Piranhas
• Under 14 Juniors Section 6 Prahran Piranhas
• Under 18 Juniors Section 2 Tooronga Park Piranhas
• Under 18 Juniors Section 3 Brighton Piranhas
We congratulate all the teams that participated in the Winter Season for their teamwork, skill development and sportsmanship.
Summer Season 2017
The Summer Season started this week and we have 65 teams entered.
It is important to recognise the enormous effort that goes into the allocation of over 500 players into teams, working out training arrangements and appointing coaches and managers. If there is one parting request, it would be to ask parents to be understanding and considerate towards the volunteers who take on these tasks because they are passionate about basketball and they are driven by what is best for your children. I would like to thank our Girls Teams and Boys Teams Coordinators, Alison Emerson and Michael Woolrich, for the incredible amount of work they have put into this season's teams.
Aussie Hoops
For the past year, Ivan Platenik has been running our Aussie Hoops program at Lloyd Street School on Sunday mornings. It's been a great success with most of the participants now playing in a Piranhas team.
Waverley Falcons Representative Program
Our Club is a major contributor to the Waverley Falcons Representative Program. When Falcons approached the domestic clubs to get an Under 12 team together about 8 years ago, the team was almost exclusively made up of Piranhas players. Every year talented young Piranhas join the Falcons Development Program and many go on to play representative basketball. Some of our experienced coaches also coach for the Falcons which is testament to the calibre of the coaches that we have in Piranhas. Our association with Waverley Basketball is a long-standing one and I would like to thank Mike Bullock, Elias Palioyiannis, Shane Palmer and Andrew Kelly for their support and organisation of the domestic and representative competitions.
Conclusion
I would like my legacy as President to be that I am leaving the Club in a strong financial position, with a clear strategy and purpose and lead by a dedicated and exceptionally qualified Committee who will be guided by our philosophy:
"To encourage participation in basketball and provide a positive experience that will allow children to thrive and develop a lifelong love of basketball. We measure our success not by the number of premierships but on the length of service of our players."
I want to thank all our members, coaches and team managers, members of our Committee past and present for your support and contribution to our Club. What has driven me all these years is a desire to do good for the youth in our community through a sport I am most passionate about. I truly believe that together, we make a difference.
Rita Harris
President