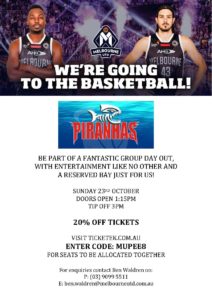 Piranhas have organised a special day out for the NBL game being played on Sunday 23rd October at Hisense Arena.
http://premier.ticketek.com.au/shows/Show.aspx?sh=UNITED0417
Checkout code MUPEE8
We are lucky to have reserved this game early on, as it's set to be a blockbuster between Melb Utd and Perth Wildcats (one of the strongest teams in the comp).  (Doors open 1:15pm tip off 3:00pm)
We have a pre-reserved seating bay, so as a club, we can come together in a social and entertaining environment.
Being a group booking, it may also entitle us to some pretty unique experiences.
Targeted bay for half time fun events
Targeted bay for prize giveaways throughout the game
Players meet-n-greet after the game (for signing of balls etc)
BUT the numbers and tickets sold is the key.
The bigger the support and turnout the more 'kick-back' we will receive.
We also have a private booking of the outdoor court to use as we wish before this game starts.
Nova Radio Station and one of their DJ's will be on-site providing some music to create a fun atmosphere, and Melb Utd are providing us with balls to use.
The time on court will be a Piranhas organised event with a strong emphasis on fun – with prize giveaways, and as you can imagine, the atmosphere will be pretty electric for everyone.
At a bare minimum, we must sell 50 tickets (with the 20% discount offer).
Obviously, from a Club perspective this is a great opportunity to support and promote our club to the wider community.  So the more members that come along, wearing our merchandise, will only benefit the spectators through extra benefits, and our Club in general.
There is a special code on the flyers MUPEE8 that will track the sales made by our club for this game.  This code will also ensure seats are allocated in our pre-reserved bay.